Wide Array of Upholstery Selections
Cutting a material regular is usually done when you have a directional print that runs vertically up the roll or a heavy nap that combs down the roll. If the piece of furniture is wider than the role of fabric, you will need hidden seams on various parts of the furniture (usually exterior back, interior back, and lower seat band).
Cutting a material railroad is usually done on non-directional fabrics or plain fabrics with little nap. It is a way to conserve fabric, and longer pieces of furniture can be upholstered with no seams.
All yardage requests are made based on plain 54" wide goods and small prints up to 4" vertically.
If you are ordering fabrics that have smaller widths or larger repeats, please refer to the chart below. Start with the width of your fabric, then move over to repeat. The percentage is applied to the amount of fabric you are ordering.
Certain fabrics may not be suitable for all types of upholstery. Upholstery fabrics should have a good weight, softness, and flexibility in order for a skilled hand to produce a flawless piece.
If you are working with furniture that has extreme curves, you shouldn't use fabrics that are too heavy or fabrics that are too stiff and have no give. The result will be wrinkles in places that shouldn't have wrinkles.
Heavy fabric will also have an impact on overall comfort backs; seats and arms will be slightly firmer. You can compensate to a certain extent by using 25/75 down combinations or softer foam, but be prepared for wrinkles.
Heavy fabrics should not be used with higher quality downs like 50/50 and 90/10 down. The weight of the heavier fabrics will have an adverse effect on the lighter downs and will not be cost-effective. 25/75 down is a good alternative for heavier fabrics.
Some fabrics are too delicate and fly extensively around the edges. For example, some silks or loosely woven fabrics. These fabrics should be knit-backed to avoid fraying at the seams and fabric separation during regular use. All fabrics that need backing are sent out to Keisling and Hess in Los Angeles for backing (additional charges will apply.) Cushions will be surged and possibly masked for additional protection.
1 yard of fabric – 54" wide = 18 sq. feet of leather
Average cow hide = 50 – 55 sq. feet
Estimated loss per hide = 20%
Be careful when ordering large print fabrics. Expert pattern matching is one of our specialties, but if we are working with a print that is off-centered, and you would like us to center that print, visible seams are maybe necessary even on smaller pieces of furniture. All visible seams are matched to avoid an eyesore.
Print patterns that are centered on the fabric width, and matching is continued from one selvage to the opposite selvage are ideal, especially when the same pattern is staggered on the left and right side of the fabric width.
Be careful with alternating stripes that are not symmetrical in width or color. The best way to apply these striped fabrics is to apply a lower front seat band, cushion tops, interior back, and interior arms, with the correct top. Then, apply exterior arms, exterior back, and bottom cushions, upside down so that all stripes match. The only time you should not apply stripes upside down is when the fabric shades (for example, velvet stripes). The contrast of a shading fabric when turned upside down is too great, therefore the fabric is applied with the correct top, and only the more predominant lines are matched.
When working on tufted jobs, expect the lines along the folds to mismatch. We do not match lines along tufted work!
Our master cutter has been trained by some of the oldest, most dedicated people in the industry. The techniques he learned, along with his incredible knowledge of how a piece of furniture should be properly fitted, allow him to match the most complicated jobs with little to no effort. We can take a 24-yard roll of print fabric; completely pre-cut a 90" loose cushion sofa, with a skirt. Send all the pieces out to be quilted. Reassemble all the pieces together and have them match from top to bottom, and completely around the skirt, with little to no waste (Please refer to our pictures in our gallery to see examples of pattern matching).
Many fabrics come with stain-resistant finishes. For those fabrics that do not, various types of coatings are available (Teflon) for an additional charge. Please look on our referral page to find an independent contractor that will come out and seal your furniture before or after delivery.
Laminating fabric not only makes fabrics water-repellant but also makes it water-resistant. The transparent film that is applied typically makes the fabric more rigid to the touch but works great for high-stain areas. All fabric is sent out to be professionally laminated.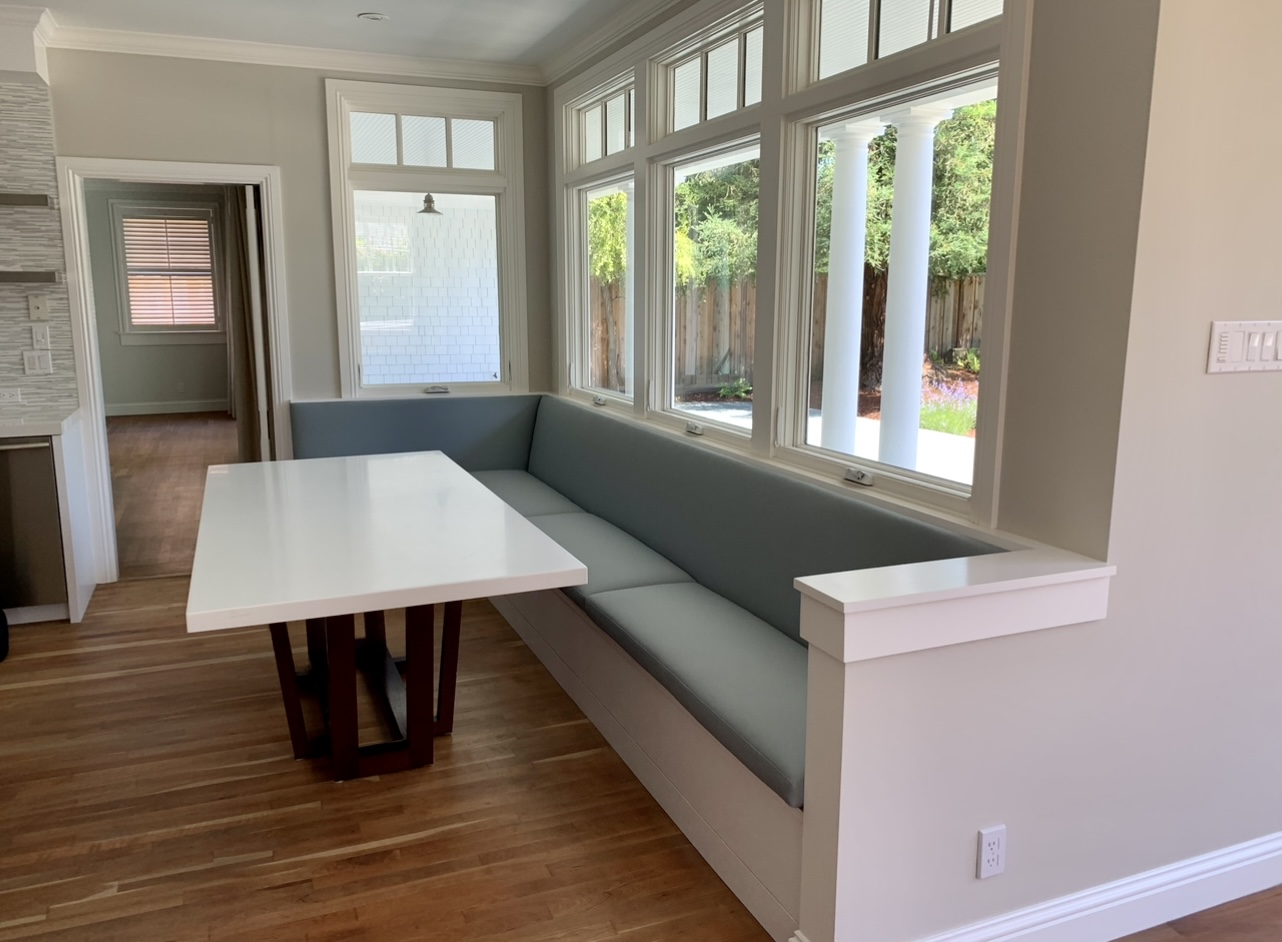 Down/Feather: 25/75 Grey Duck down is our preferred standard down of choice. It consists of 25% down, and 75% feather blend. This down blend works well on lighter fabrics. It is airy and supportive, even when used with heavier fabrics. 50/50 down, which consists of 50% down and 50% feather blends, are available for an additional charge. Be careful when using lighter, more luxurious down combinations with heavy fabrics. The heavier fabrics will weigh on the lighter downs. The extra weight causes the finished product to feel empty. To compensate, overpacking or crowding the down may be necessary in order to fill. This overcrowding process eliminates the natural behavior of the down.
Tip: You should never overstuff a down cushion. If a firmer cushion is what you are looking for, you might want to consider a different type of fill.
Poly Down: Poly down cushion is made with two 25/75 or 50/50 down envelopes joined together. Four cushion tops are traced from the finished cushion covers and cut out of a high-quality down-proof ticking. Two envelopes are made by sewing two tops together with 2–3 channels in between each envelope to separate the down (larger cushions take additional channels) Then, the two tops are joined together by a strip of ticking called cushion boxing (boxing varies in width depending on the thickness of foam used). The boxing makes a pocket for the foam core. High-resilient top-rated HR foam is used along with a resilient 100% polyester wrapping. The polyester wrapping helps keep down lofty. Springs-down cushions are also available. Smaller seat cushions are not recommended with poly down fill. Smaller cushions compress them down too much and do not allow the down to breathe. Double the yardage of down-proof ticking is required to make 1 cushion.
Manufacturers are always looking for ways to cut corners. Here are some ways they cut corners with down cushions:
Cheaper, less resistant down proof ticking is used.
90% feather and 10% down combinations are used.
Only two cushion tops are cut out of down-proof ticking on poly down cushions. The two interior tops of the envelope and the channels use in between the envelopes to separate the down are made of a cheaper fabric that traps the down and causes it to cluster.
90% feather and 10% down combinations are further reduced in quality by blending it with large amounts of polyester fiber. In most cases, larger percentages of polyester are used than down. This also causes the down to cluster and not flow properly.
Poorly rated foams are also used.
Knops Upholstery and Vsdezine not only use the highest-rated foam, but we also use the cleanest, down-proof ticking with the highest tread countdown available. We use our ticking on all interior tops and channels to provide maximum flow for all of our high-quality downs. Clustering is not a problem.
Cloud Air: Cloud air cushions are a great alternative to down cushions. They are made with the same down proof ticking and constructed in the same way. Instead of down, high-quality polyester fibers are blown and filled in the same manner. This is a great alternative for people who are allergic to down.
Poly Dacron cushions are made up of a poly core with 100% Dacron or polyester wrapping. In contrast to a poly down cushion which typically requires softer foam to allow the down to function, a poly Dacron cushion has a wider variety of densities and levels of support. For example, an older person who does not want to sink so much into a cushion should choose a higher-density poly Dacron cushion. In contrast, a poly used for the core of a poly down seat cushion will also be used as a core on a poly dacron back cushion. Poly Dacron cushions also work extremely well when used for seating on modern-style furniture. Modern furniture requires sharper lines and cushions with little to no crown firmer. Poly cores work great to create this effect.
Taking a spring unit, wrapping it with cotton to protect the poly, and sandwiching it in between 2 layers of high-density 1" foam make spring cushions. Then, wrap it with polyester.